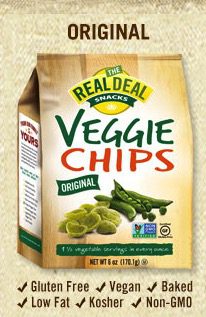 Not too long ago I received an email asking if I wanted to try out some new snacks for free. The goal of the email was for me to taste the product and write a glowing review thus providing some nice advertising for the company. I like snacks and I especially like the free kind so I signed up.
A few weeks later my snack pack arrived. Quite honestly I was prepared to dislike these chips. I am all for healthy eating but the chips were pushing it with gluten free, vegan, kosher, low fat, non-GMO and baked. How could something with all of those restrictions actually taste good?
Well, they do taste good. Not just good but delicious and so satisfying. These chips are made from peas and corn with a bit of oil and salt. They are as crunchy as Doritos with none of the guilt. The chips are also dry to the touch which is different from other pea crisps that I have had. I tasted three varieties: Original, Sriracha and Aged White Cheddar. My favorite by far is the Original. The Sriracha was too garlicky for me but some will like that. The cheddar ones were tasty too but I preferred the plain ones.
What I really like about these chips is that they are really really crunchy and really healthy. One good-sized portion has only 2.5 grams of fat, 120 calories, 4 grams of protein and 1 gram of fiber. You really can't beat that kind of nutrition in a snack.
My kids tasted the snacks and no one was particularly moved by them. But I think they might grow on at least my son. So the bottom line is that I got the snacks for free but now I am a believer. I will have to head to Whole Foods for my next supply.
Are you wondering how you too could get free snacks? If you want to try The Real Deal Veggie Chips for free here is your chance. Send your email address to me at Catherine@thefamilycoach.com and I will raffle off a package of chips. Happy snacking!