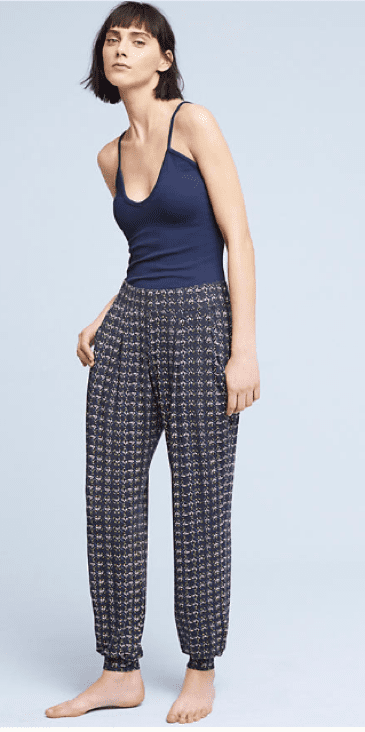 For my birthday this year my wonderful mother-in-law gave me a generous gift card to Anthropologie. I love that store, and I was thrilled to pick up something fun.
A few days ago, I headed to the Irvine Spectrum with my daughter. She was busy shopping elsewhere when I tried on a T-shirt and pair of pants at Anthropologie. Both were insanely soft and comfortable. I rushed out of the dressing room on the line to pay. I was incredibly excited and satisfied with my purchases.
Most days I sit around at home working on my computer. I want to be comfortable. Typically, I wear my pajamas until I have to shower to get the kids. I try not to embarrass my kids at school pick up by showing up in my pajamas. At the same time I also don't want to get super spiffy just to come back home again. So, my new pants and shirt were going to be just perfect. Stylish yet comfortable.
After shopping I showed my husband what I bought. He wasn't enthusiastic. I didn't care. My pants were comfy and cool because I bought them at Anthropologie. Everything is cool there, right (asks the women who has never been cool)?  I put on the pants with a nice sweater the very next day. I had a few errands to run before going to a neighbor's house for an hour-long salad party. The party involved about 20 women bringing in a few salad ingredients and everyone shared to make salads in jars for the week. Brilliant idea.
Anyway, I was trying to accomplish way too much before the party so I rushed into my house to get my ingredients and then ran to my neighbor's house. When I walked in my neighbor said, "Oh, thanks so much for coming. You are awesome. You came even in your pajamas!" Um, What? Yup, my neighbor thought my pants were pajamas. Whatever! I laughed inside because I knew my husband would love this story. I made my salad and that was that.
A few days later I told my friend the story about my new pants and how my neighbor thought they were pajamas. Ha ha, funny funny. So, the friend asked for me to send her a picture of the pants. I went to the Anthropologie website and found the pants and texted them to my friend. She texted back, "They're cute! And comfy! You should wear them with pride." I thought, "Yeah! I will!" But then I realized the picture of the pants I had texted featured a stripe running down the side—and my pants did not. Before long, a little teensy tiny thought started to formulate in my head. Maybe my new beloved pants are pajamas. Oh, crap!
Just to make sure, I decided to have a gander at the sleepwear section. And right there were my pants. Except they weren't pants. They were Sonadora Sleep Pants.
And there you have it. I couldn't not be less cool.
Thanks for nothing, Anthropologie.
Side Note: You tell me if you think the Sonadora Sleep pants look so drastically different from the Berlin Joggers.