Recently I watched an old fashioned freak show. No, I didn't visit the circus or the state fair. I saw the show from the comfort of the couch in my family room. It isn't currently tasteful or politically correct to call someone a freak. Yet, under a different name the same type of show continues. Parading people who exhibit psychiatric issues for the purpose of entertainment is commonplace on every major television network. The worst part is often a medical or mental health professional is the P.T. Barnum.
A prime example of this phenomenon occurred on November 18 when Dr. Phil McGraw welcomed actress Shelley Duvall as a guest on his Dr. Phil television show. Dr. Phil has a Ph.D. in clinical psychology but he does not have a license to practice in any state. This particular show consisted of an interview with Ms. Duvall and a clinically inappropriate attempt to provide treatment. During the interview Ms. Duvall states people in security or at the bank are trying to hurt her. She reports some unknown man is threatening to hang up upside down in his classroom. She believes people are listening in on her conversations and the internet has compromised the government and defense department. Lastly, she routinely remarks about objects implanted in her body.
To any trained mental health professional, Ms. Duvall is in the midst of a potentially serious psychotic episode. Dr. Phil clearly recognizes her symptomology because he takes the time to demonstrate to his audience aspects of her illness.
During the course of the show Dr. Phil repeatedly tries to obtain Ms. Duvall's consent for treatment. However, Ms. Duvall does not have the capacity to make rational decisions due to her inability to understand information that is presented to her. People in Ms. Duvall's state cannot choose or refuse treatment and require either another individual or a court to make decisions for them. Dr. Phil must have studied consent in his training yet he continually tries for the sake of the cameras to have Ms. Duvall agree to treatment.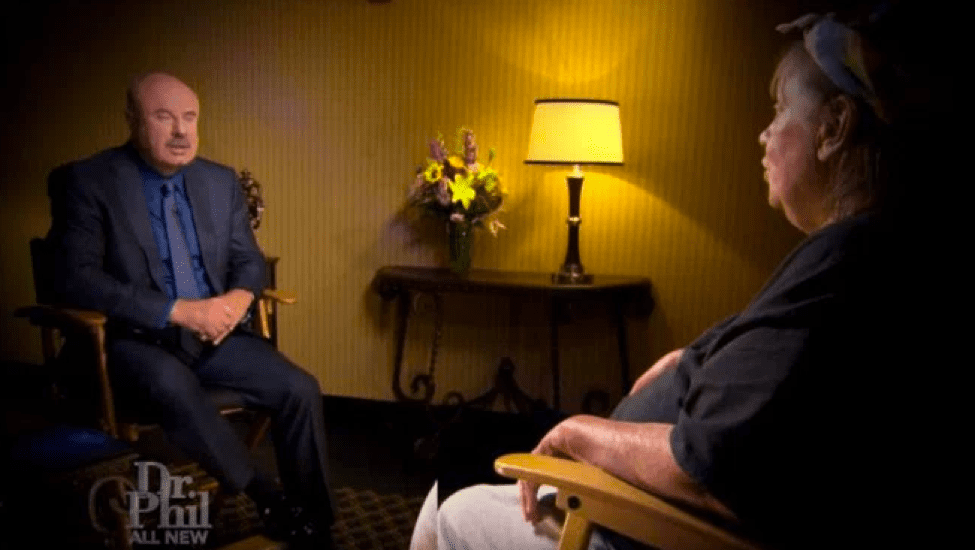 The show takes Ms. Duvall on a wild goose chase from Texas to California for treatment with the cameras following. Shocking to probably no working mental health professional, Ms. Duvall does not do well on the trip. Once in California Dr. Phil reports that after three days at a treatment facility Ms. Duvall refused to sign paperwork to accept treatment or take any medications. The show closed with Dr. Phil reporting that Ms. Duvall is being seen by professionals closer to her home.
The line between entertainment and what appears to be counseling, medical advice or treatment is blurry to the average consumer. Television personalities that use the prefix "Dr." represent themselves as helping professionals. Their shows appear to provide assistance to people with significant emotional and psychiatric problems. However, just like in a circus these shows exploit vulnerable people for the benefit to the TV personality, show and network.
Doctors and mental health professionals are taught to use codes of ethics as guides to protect patients from abuse based on an inherent power differential. Generally, when a licensed professional acts against the prescribed code of ethics, there are ramifications up to and including revoking the license required to practice.
But what happens when a person who earned a degree in mental health but is not licensed in that profession crosses an ethical line? Well, absolutely nothing.
The exploitive nature of the relationship between Ms. Duvall and the show is crystal clear. She is a highly vulnerable person in need of real medical and psychiatric treatment. Ethical principles such as do no harm, obtain informed consent and avoid exploitive relationships are without a doubt breached. Yet, the unlicensed Dr. Phil is merely providing entertainment so he is not bound by the same regulations. Exhibiting Ms. Duvall, with all of her obvious psychiatric issues, on television is an atrocious abuse of power, one that would be easily sanctioned by a professional ethical review board.
However, one need not be bound by a professional code of ethics to act ethically and morally. It is unacceptable for high-powered highly-influential television networks and personalities to continually abuse vulnerable people for the sake of entertainment. Sure, people should know that television shows simply provide information and entertainment and the material presented should in no way be conceived as clinical advice. But no matter how many times that sentiment is conveyed people continually line up to be helped by these famous professionals.
It is wrong to profit in any way off of someone's misfortune. It is downright vile to do so while simultaneously publicly humiliating and potential worsening that person's health crisis.
The lack of outrage from the public about shows like Dr. Phil, Celebrity Rehab with Dr. Drew and even Dr. Oz who peddles assorted products is deafening. Sure there may be a holler from time to time in relation to a particularly egregious show or when someone dies after an appearance. However, in rapid succession, business returns to usual. Eventually viewers become rabid for the next freak in line. And just like always, another vulnerable person is signs up for the show.
As a society, we can and should do better. Let's not call the freak show by a more tolerable name. Let's end the show once and for all by tuning out.