When someone has a blue check on twitter is shows that they are relevant. It's like a badge of authority and authenticity. Turns out that check is pretty important. Accounts are verified by twitter when they are of public interest. Twitter defines public interest as people in media, journalism and other key interest areas. So in the interest of showing why I am of public interest, I compiled a little bit about my career path and influence for the Twitter folks. But I have to say, it's pretty cool to see how far my career has developed and changed in the last few years.
Here is a sampling of my appearances on radio, television, podcasts, newspapers, magazines and as an author and journalist.
Journalist Part 1: Syndicated Columnist: I write the Dear Family Coach column twice a week. It is syndicated to various newspapers (ex. South Coast) and websites (ex. Arcamax) throughout the country.
Author:

Ignore It!

: How Selectively Looking the Other Way Decreases Parenting Issues and Increases Parenting Satisfaction was published by TarcherPerigee (Penguin Random House imprint) in 2017.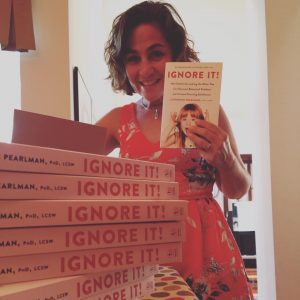 Radio: I've been a featured guest on many regional and satellite shows. Here are a few from the last few months.
Television: I've appeared on the Today show, Kathy and Hoda, and various local news programs around the country as a parenting expert.
Journalist Part 2: I've written many articles on newsworthy topics for CNN, The Wall Street Journal, and

Sports

Illustrated

. To see more articles I've written for these sites check out my website. Here are a few:
Podcasts: I'm a podcaster and I've been on various podcasts as a parenting expert.
Speaking: I've been a featured guest speaker at conferences and events. Here's one example of me speaking at a Wall Street Journal parenting panel.